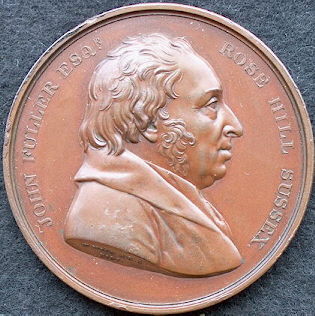 John "Mad Jack" Fuller
Also known as: Honest John and the Hippopotamus
Born
20 February 1757 at North Stoneham, Hampshire.
Inherited a fortune, including the Rose Hill estate, Brightling Sussex, from his paternal uncle Rose Fuller, in 1777, at the age of 20. The Fuller family's wealth was derived from iron founding, land holdings and sugar plantations in Jamaica.
Family
Never married; no known children.
Occupation
Squire of Brightling, Sussex.
He was Member of Parliament for Southampton from 1780 to 1784 and for Sussex from 1801 to 1812.
Eccentricities
Made a bet that he could see the spire of St Giles Church, Dallington from Rose Hill house. Upon realizing that this was not true he had workmen erect the Sugar Loaf folly over night in order to win the bet.
Fuller had a 25 foot (7.62 m) high pyramid mausoleum built in 1811, twenty-three years before his death. It stands, incongruously, in the churchyard of St. Thomas à Becket, Brightling.
He was removed from the house of parliament for disorderly conduct in 1810. The incident arose from his participation in an inquiry into the Walcheren Campaign. Fuller insulted the speaker of the house, calling him "an insignificant little fellow in a wig", was taken into custody by the Serjeant-at-Arms and was publicly disgraced.
Death
At his Devonshire Place home in London on 11 April 1834, aged 78.